I know how to manage your financial products effectively.
I am an experienced player with a goal to change things for the better.
It is important that clients consult their financial needs with a professional. Naturally, I have licenses valid in all banking sectors and my business partners are all the banks and insurance companies operating in Slovakia. Therefore, I am able to choose the most suitable product for my clients.
I have known for a long time that the best mortgage is not the one with the lowest interest rate, that not every insurance is a good insurance and that old investment products should be regularly reviewed as they may prove not as productive as they used to be. My recommendations are based on facts and statistics, not assumptions. I provide comprehensive financial solutions. I help people make money, protect their assets and help build future they have always imagined.
I work as a financial agent for Swiss Life Select Slovakia. I have a support of a strong company, professionals and great people. I am a member of the team led by the regional director Ladislav Smoroň and his financial experts. I publish articles on podnikajte.sk, I follow the current trends on the market and I am constantly educating myself so I can continue bringing tailor-made solutions to my clients.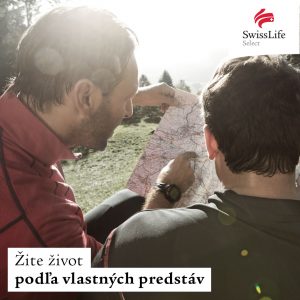 Swiss Life Select Slovensko
We are experts of the Swiss financial group Swiss Life with more than 160 years of experience under its belt. The company is a leader in the life insurance market.
Product experience, risk know-how, quality of service and financial brokering, as well as efficient sales networks are the basis of our success.
We enable people to lead self-determined life.